Description
The SnuzPod 4 has improved on the already extraordinary SnuzPod 3 with fantastic advantages for parents and features that guarantee the SnuzPod 4 is the ultimate sleeping environment for your baby.
Improved Breathability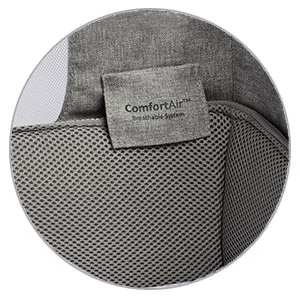 The SnuzPod 4 boasts the innovative ComfortAir Breathable System which encourages healthy air flow and improves breathability that assists with your baby's temperature regulation as a result. It includes mattress-level air flow vents, a super supportive mattress with 3D breathable mesh cover, upgraded base ventilation and a machine washable padded mesh liner.
---
Designed for Safety
The SnuzPod 4 meets the new bedside crib safety standard BS EN 1130:2019 and now features a zip-down half-height wall for easy access to your baby and optimal safety.
---
Industry Leader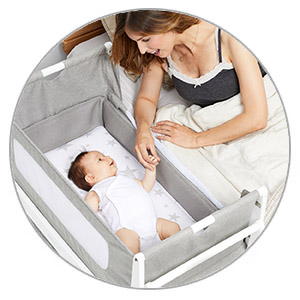 The SnuzPod 4 fits more beds than any other bedside crib on the market with a maximum adult mattress height of an incredible 73cm.
---
Perfect for Sleep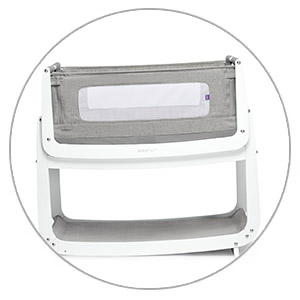 Ensuring your little one gets the ideal night's sleep, the SnuzPod 4 has built on the SnuzPod 3's already outstanding features and still includes the soothing anti-reflux incline function which reduces reflux symptoms and provides additional comfort, lightweight lift-off bassinet for convenient use around the house or when visiting friends and family and a rocking stand .
---
Features:
Suitable from birth to 6 months (approx.)
Unique 3-in-1 design: us as stand-alone crib, bedside crib or bassinet
ComfortAir breathable system for temperature regulation with mattress level air flow vents, upgraded base ventilation and machine washable mesh liner
Super supportive mattress with 3D breathable mesh cover
Meets new bedside crib safety standard BS EN 1130:2019
New zip-down half-height wall for easy access to your baby
Fits more beds than any other bedside crib – maximum adult mattress height 73cm
Anti-Reflux incline feature
Dual-view breathable mesh sides
Lightweight lift-off bassinet for use in any room in the home
Includes bed straps (fit divan, ottoman and framed beds)
Rocking stand
Made using quality sustainably sourced Beech solid wood and plywood
Suitable from birth to 6 months, or until baby can sit up, kneel or pull itself up unaided
Maximum recommended weight of child 9kg (20lbs)
Requires self-assembly
External size: L100 x 49 x H95 (maximum height)
Product weight: 11.5kg
Designed to fit divan, ottoman and framed bed bases
Suitable for bedside use where the top surface of the adult mattress is level with the top of the zip down wall of the SnuzPod 4, up to a maximum height of 73cm from the floor
Meets new bedside crib safety standard BS EN 1130:2019
Breathable mattress certified and the perfect fit for SnuzPod 4 (40 x 75.5 x 3cm), made with OEKO-Tex 100 certified materials, ensuring the product does not contain any harmful chemicals or substances
ComfortAir mesh liner has been tested to safety standard BS 4578 for breathability and air-flow
Care: ComfortAir liner and mattress cover are washable following manufacturer's instructions and removable fabric bag is hand wash only
A waterproof mattress protector must be used (sold separately)
Made using quality sustainably sourced Beech solid wood and plywood